Skoda Octavia 1.6 FSI BLF – Installation of ALEX IDEA LPG System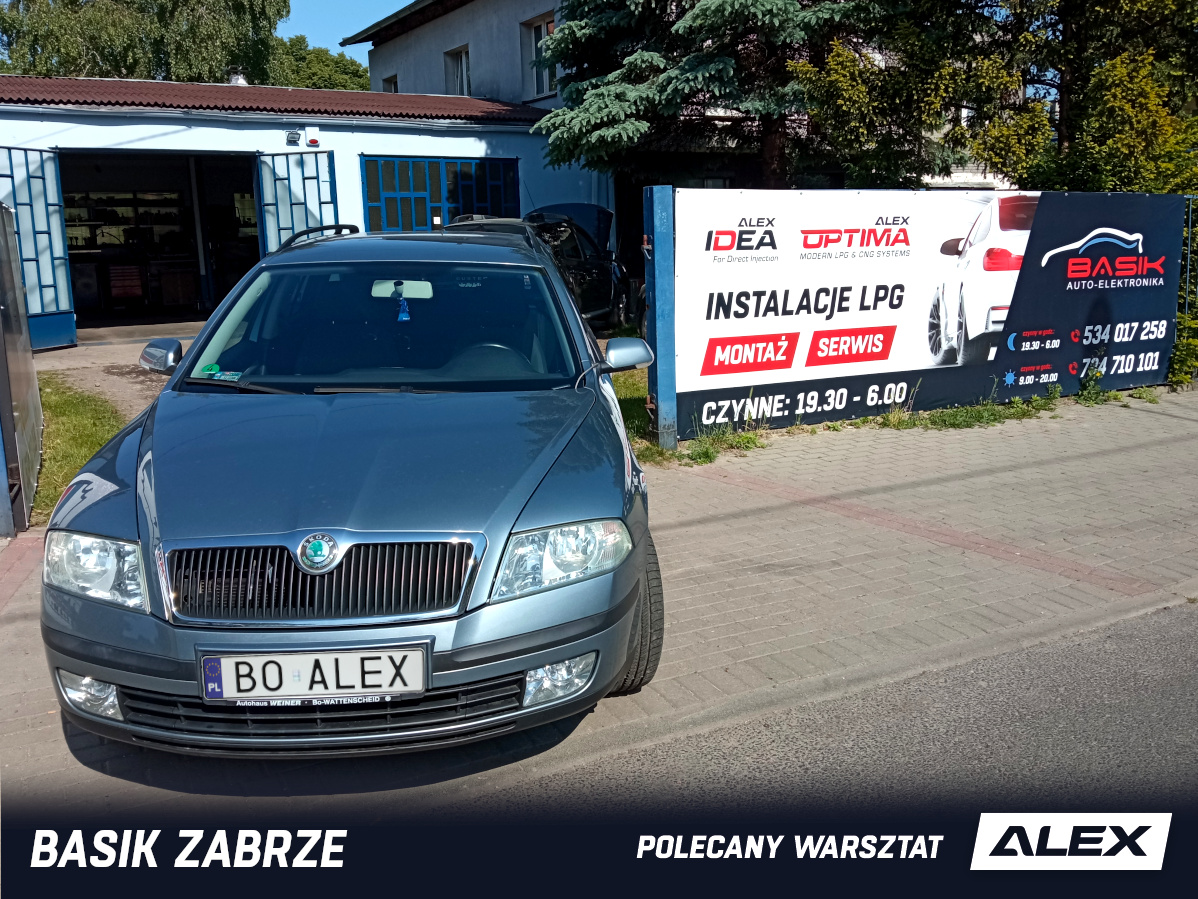 Never enough time to install LPG in your car? We have the perfect Recommended Workshop ALEX for you! Drop off your car in the evening and pick it up the next morning, all done! Can it be done? Absolutely. Just head over to Basik Auto-Elektronika Zabrze, and the guys will take care of the rest. As an incentive, we present one of their recent projects.
SKODA OCTAVIA II KOMBI – a reliable everyday car
Everyone knows what an Octavia is. It's a brand that is very common on Polish roads. And the Kombi model with a 1.6 FSI engine can be described in a few sentences like this:
"I need a family car – got it. Huge trunk, reliability, driving comfort. I needed a nice car for a reasonable price – got it. I needed a workhorse – got it. I'm satisfied." (source: autocentrum.pl)
Yes, this car is in many ways perfect for daily use. Without any major sporty thrills, but who needs those when we want a reliable car for everyday driving?
Fuel consumption in the Skoda Octavia 1.6
Fuel reports indicate an average fuel consumption of 7.7 liters of gasoline per 100 km, with some heavy-footed drivers going up to 10 liters of gasoline. It's a standard result, but definitely "room for improvement" 😉
LPG conversion for FSI engines
ALEX IDEA is an innovative conversion kit designed for transforming cars with direct injection gasoline engines (such as TSI, FSI, TFSI, GDI, T-GDI, EcoBoost, SkyActiv, DISI, JTS, TBI, SIDI, DIG, DIG-T, TCE) to run on gas. This advanced system allows for significant fuel savings. By utilizing special control algorithms, ALEX IDEA only consumes 5 to 15% of gasoline, while other similar installations require as much as 20-30% of gasoline supply. It's simply the ideal choice for the discussed Skoda engine 😉
Autogas installation to Skoda Octavia 1.6 FSI – ALEX IDEA LPG System
  Skoda Octavia 1.6 FSI 115KM 2005 (engine code: BLF)
Direct Injection Engine
 (DI)
A complete 
ALEX IDEA
 LPG installation was installed
Controller:
ALEX IDEA 4 cyl.
Injector:
Barracuda 120
Filter: 
Ultra360°
Reducer: Zavoli
Switch: RGB
Gas tank: 630/225
Fuel filler under the flap.