Toyota RAW4 2.5 Hybrid Black Edition – LPG installation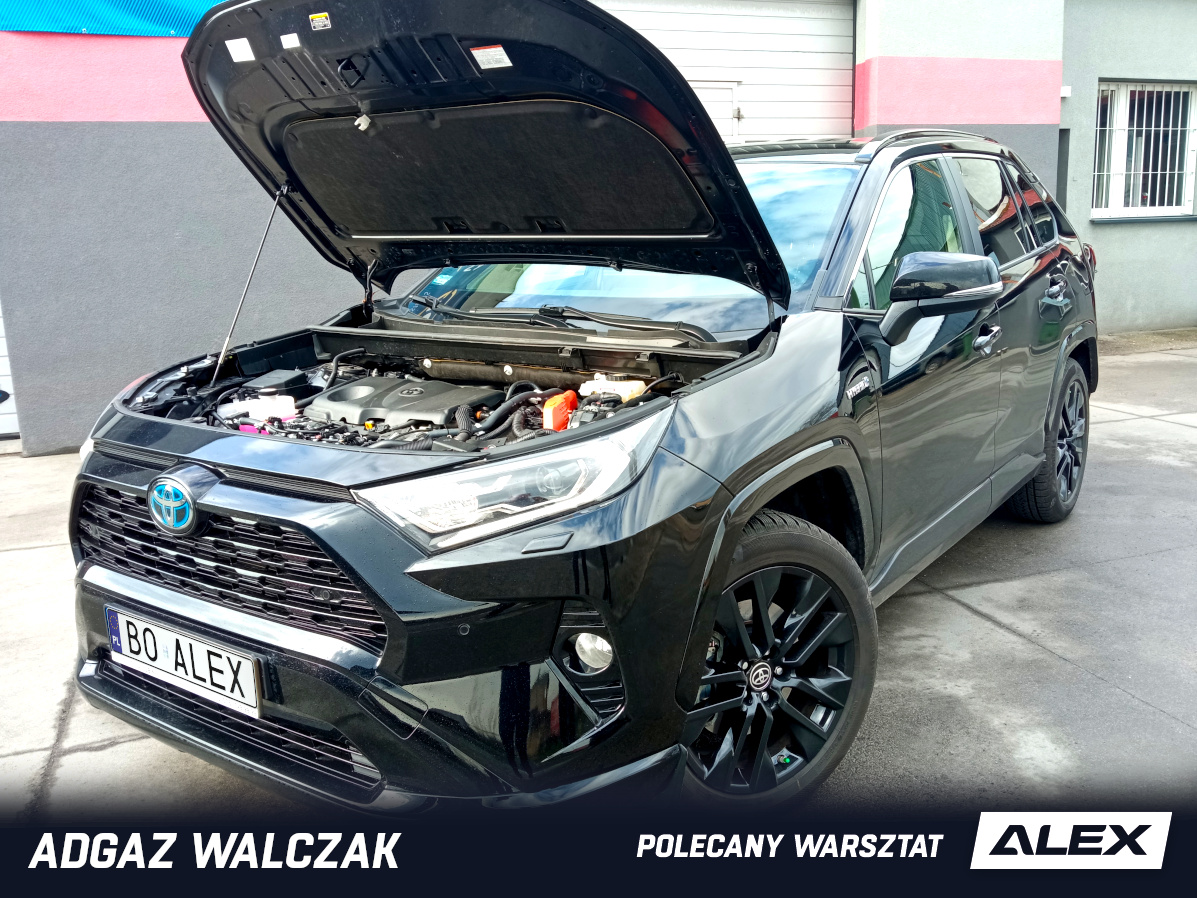 Black is your favorite color? We have something for you! Toyota RAV4 Black Edition by JBL. All black – from the 19-inch rims, to the roof rails and even the interior. The few exceptions are badges and inscriptions on the bodywork, upper door moldings and exhaust tips. We have added autogas system to the gasoline engine with dual petrol injection, working with the electric motor. 🖤
Japanese-style hybrid SUV
The version in question is the RAV4 Hybrid with four-wheel drive, equipped with a standard hybrid system. It consists of a 2.5-litre petrol engine with variable valve timing and an electric motor that assists the petrol engine. Together they provide a performance of 222 HP.
To sum up, the RAV4 Hybrid is a comfortable, capacious, solid and safe car, which in theory should save fuel. However, we will be able to improve this theory, but more on that in a moment ;). And this car – unlike some competitors – should always reach its destination without failure. And that's what it's mainly about. 😉
LPG system for dual injection engine with hybrid drive
The hybrid drive is great for city driving, where we often brake, roll to traffic lights, recharging the batteries and using the regenerated energy. But when we get on the motorway, it's mostly the gasoline engine that's not inherently economical. This is where the LPG installation comes into its own.
ALEX IDEA 2.0 is a perfect solution for the "Direct dual" engine, i.e. engines with mixed – dual petrol injection. It is a system for modern engines that is distinguished by the lowest fuel consumption on the market! It consumes only 5 to 15% of gasoline, while competing installations of this type require even 20-30% of gasoline.
Toyota RAV4 2.5 SUV fuel consumption
During a leisurely drive around the city, the average fuel consumption was 6.9 liters of fuel per 100 kilometers, which is quite a good result (although the catalog range is 5.6-5.9 liters). However, once you get on the highway, the advantages of the hybrid disappear. At a speed of 140 km/h, the noise level in the cabin increases, and fuel consumption is higher than in similar diesel SUVs at 8-9 l/100 km.
How much LPG will burn LPG after installation? We are waiting for feedback from the customer, but we anticipate an average of 8-9 liters of gas and 5-15% of petrol (aiming for the middle value). And yet the hybrid can be even more economical. 😉
LPG installation for Toyota RAV4 – ALEX IDEA dual System
Toyota
RAW4
2.5 Hybrid AWD 222KM
Black Edition by JBL
2022
Dual Injection
(DI + MPI) + Hybrid
The complete ALEX IDEA LPG installation has been assembled:
Controller:
ALEX IDEA 2.0 4 cyl.
Injectors:
Barracuda
Filter: 
Ultra360°
Reducer SHARK 1500
Switch:
RGB
Fuel filler under the flap.