Audi TT 8J 2.0 TFSI – LPG installation for direct injection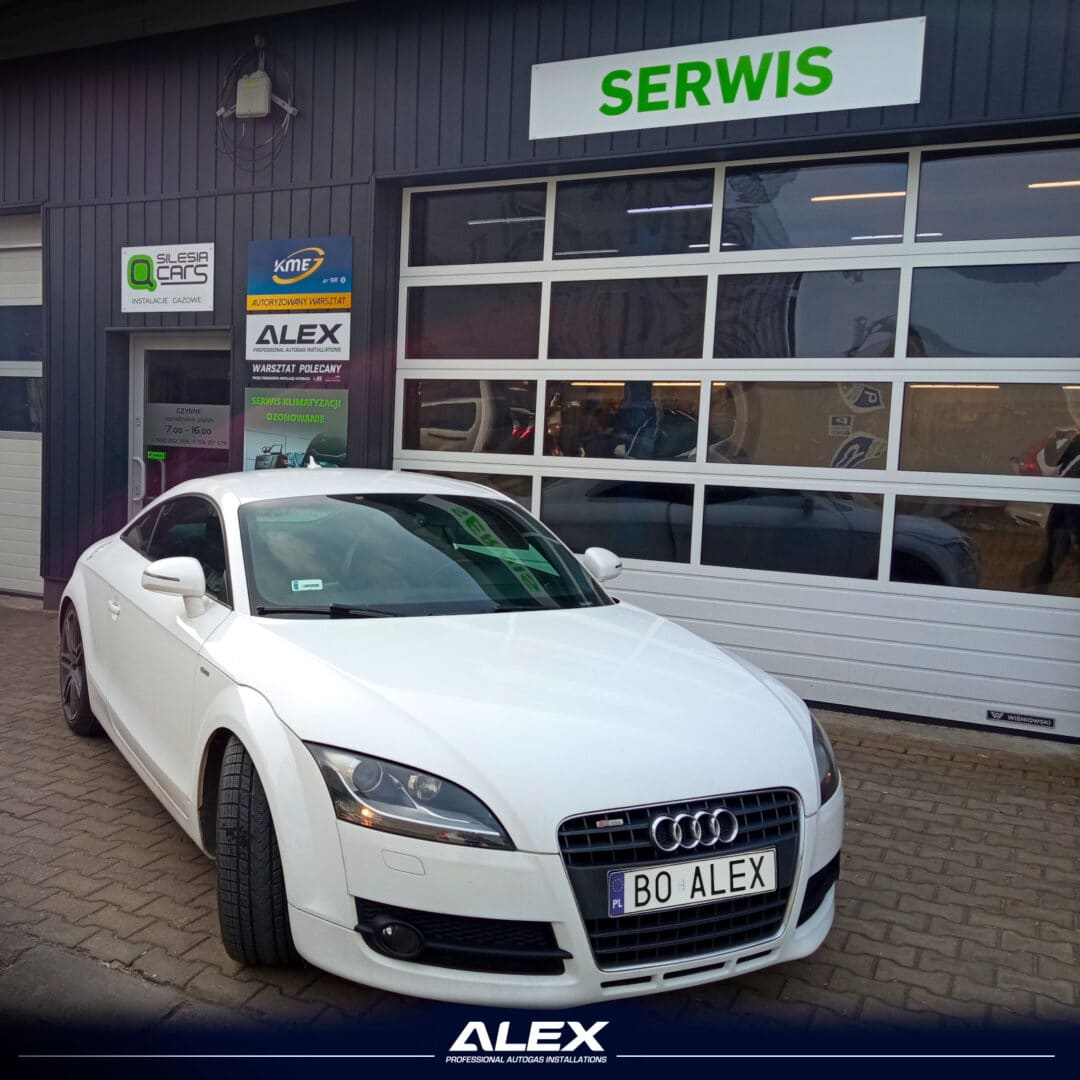 Look at this bully! A small, neat and agile coupé. The synonym of fun to drive! And thanks to the LPG system it will be incomparably more economical.
Audi TT 8J with 2.0 TFSI 200 HP engine is a car that surprises with its character, stylish appearance and excellent performance. Designed for enthusiasts of fast and dynamic driving, this model is one of the most popular sports cars on the market.
Audi TT 8J 2.0 TFSI – is it suitable for LPG?
This Audi TT uses a
turbocharged gasoline engine with direct fuel injection
. This type of injection works perfectly with our
ALEX IDEA LPG System
. In addition, due to the fact that the engine is equipped with a turbine, the
adaptive SHARK BFE ADAPT reducer
will do a fantastic job.
LPG System dedicated for direct injection
ALEX IDEA is the perfect solution for the "Direct" engine. It is a system for modern engines that is distinguished by the lowest fuel consumption on the market! It consumes only 5 to 15% of gasoline, while competing installations of this type require even 20-30% of gasoline.
SHARK BFE ADAPT adaptive reducer
The SHARK BFE ADAPT adaptive reducer is a real favorite of LPG installers. This is an unusual reducer that, instead of maintaining the gas pressure at a constant level (traditionally), independently adjusts to the engine load! Thanks to this, we obtain increased efficiency of the entire gas installation :-). How will it feel in practice? For example, when overtaking, when we press the accelerator pedal to the floor, the SHARK BFE ADAPT reducer reacts to a sudden increase in load and increases the gas pressure. Thanks to this, it can "process" more LPG fuel, and the injectors will deliver a larger dose of autogas to the engine. The whole throughput of the system just increases. At the same time, problems with switching to gasoline during sudden and heavy loads are eliminated ;). Therefore, in turbocharged or more powerful engines, such an adaptive reducer is necessary for the proper operation of the gas system.
Fuel consumption in the Audi TT 8J 2.0 TFSI before LPG installation
Yes, the car is great, but there is a catch. Fuel consumption, which is much higher than declared by the manufacturer and indicated by consumption reports.
In the city, when driving economically, it is impossible to go below 10L/100km. It actually burns from 10-15 liters of petrol per 100 km.
On the road, driving at a speed of about 90km/h, sometimes you can get down to 7.5L/100km.
Of course, let's not forget that this is a car with great performance, so fuel consumption is not too high anyway. But if you fill up with gas, you can pay half as much at the station, so why burn money in petrol ;)? We like such conscious customers! Respect!
Fuel consumption in the Audi TT 8J 2.0 TFSI after LPG installation
Recently, the client boasted of feedback 🙂 After driving 1000 km (routes, city, mix) the car used on average:
11 L of autogas per 100 km.
0,9 L of petrol per 100 km.
What we are always most interested in – the share of gasoline – averaged 7.6%. Good result! 🙂
LPG installation for Audi TT 8J – ALEX IDEA System
Audi TT
8J 2.0 TFSI 200HP series 2009 r. – currently 260HP (Stage 1)
Dual injection (DI)
Engine code: BWA
Controller:
ALEX IDEA 4 cyl.
Injectors: SuperB
Filter: 
Ultra360°
Adaptive pressure reducer: SHARK BFE ADAPT
RGB switch
Gas tank630/200
Fuel filler under the flap.