Mazda 6 2.0 165HP 2015 – assembly of LPG ALEX IDEA system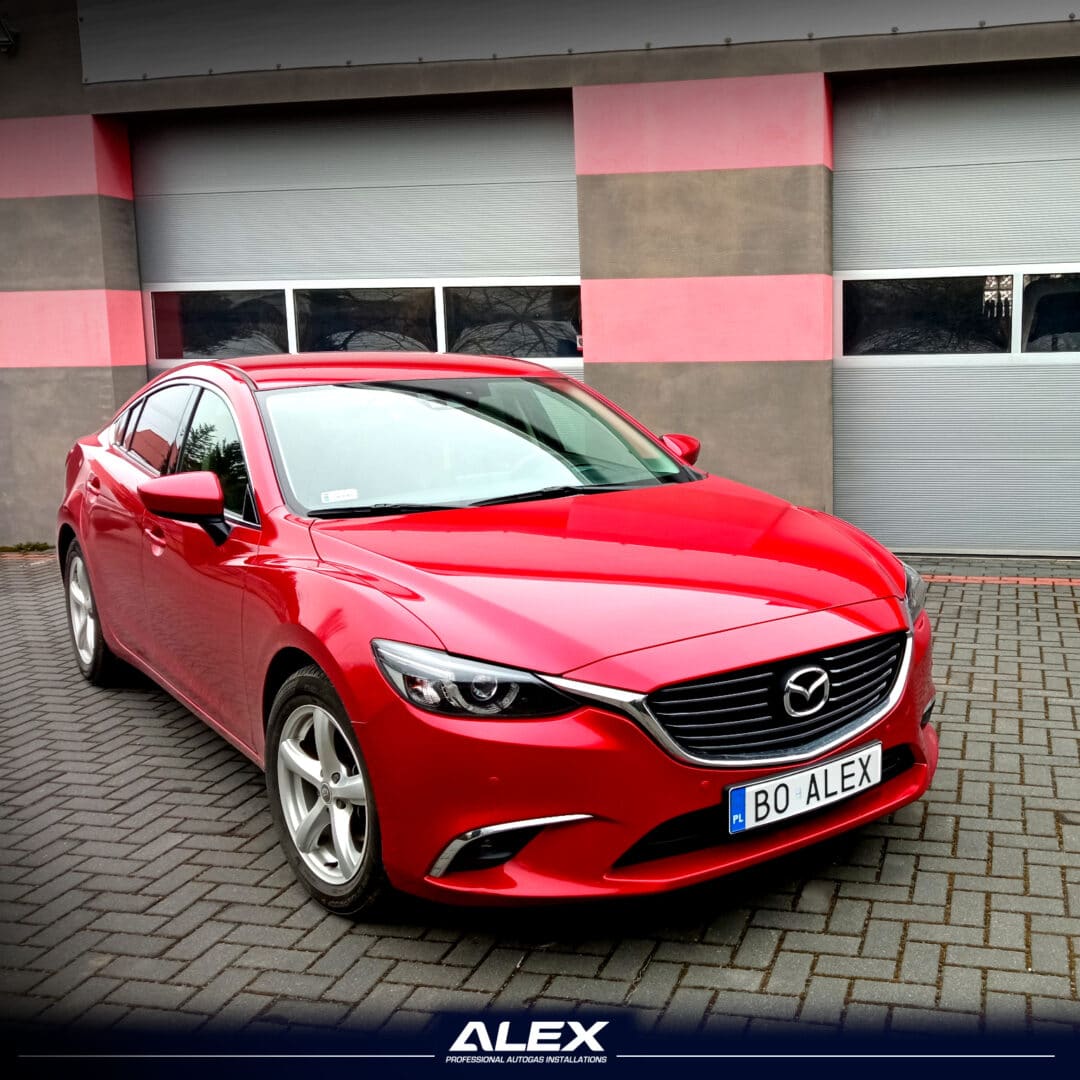 The third generation Mazda 6 is a very successful design, great driving characteristics and rich equipment options. And this one in a beautiful Soul Red color has been retrofitted with our LPG system. And yet! You can have everything… 😉
Mazda 6 III Sedan 2.0 Skyactiv-G 165HP 2015
Mazda, when designing the third generation of the model 6, used proven solutions and classic elegance. And so in the sedan in question we have a naturally aspirated (and unstrained!) engine with decent power, a manual gearbox and a large, elegant body. We have to admit – it turned out really well. And original!
Mazda 6 III 2.0 Skyactiv-G – engine and fuel consumption
This car has a SKYActiv-G 2.0 petrol engine with a power of 165HP at 6000 rpm with gasoline direct injection. Although the car is large, its fuel consumption is relatively small:
With abnormally slow driving up to 100 km/h – you can go down to 6 liters/100 km.
With everyday normal driving in the city – it's about 8-9 liters/100 km.
On the highway, at 180 km/h – it's about 10-11 liters/100 km.
Well, it's not bad, but certainly, these results can be optimized. The ALEX IDEA System comes to the rescue – it's a perfect LPG installation dedicated to direct injection petrol engines.
ALEX IDEA – LPG system designed for direct injection
This system is distinguished by above-average fuel economy. Thanks to specially developed control algorithms, it consumes only 5-15% of petrol, while competing installations of this type require additional injection of almost 20-30% of petrol. But…
Why is a small amount of gasoline required?
In engines with direct gasoline injection, the gasoline injectors are located directly in the combustion chambers, and their tips are exposed to high temperature and combustion products. So the injectors need a flow of gasoline to clean themselves and the flowing fuel to cool them. Therefore, the LPG installation for direct injection engines should not permanently disable the petrol injectors.
The injection values of petrol used for cleaning and cooling the injectors may vary, depending on the capabilities/algorithms of the gas controller and the requirements of a given car model. In the ALEX IDEA system, the share of gasoline is usually between 5% and 10%. In more complex drive units, it will be about 15%.
LPG installation for Mazda 6 – ALEX IDEA System
Mazda 6 III Sedan 2.0 SKYACTIV-G 165HP 121kW
2015
Direct Injection Engine (DI)
The complete ALEX IDEA LPG System was installed:
Controller:
ALEX IDEA 4 cyl.
Injectors:
Barracuda 120Nl
Filter:
Ultra360°
Reducer:
SHARK 1500
RGB switch
LPG tank 630/200
gas filler under the flap.
Assembly workshop:
Autoservi Piotr Małaszewicz
Glinianki 10, 42-240 Rudniki, Poland
+48 500 247 100
——
Are you thinking about installing LPG in your car? Use the LPG Calculator and check the profitability of your investment, find an LPG kit for your car or search for a recommended LPG workshop in your area. If you have any questions, go ahead – just ask the ALEX expert.