GAS Marathon – KAMIL combines running and saving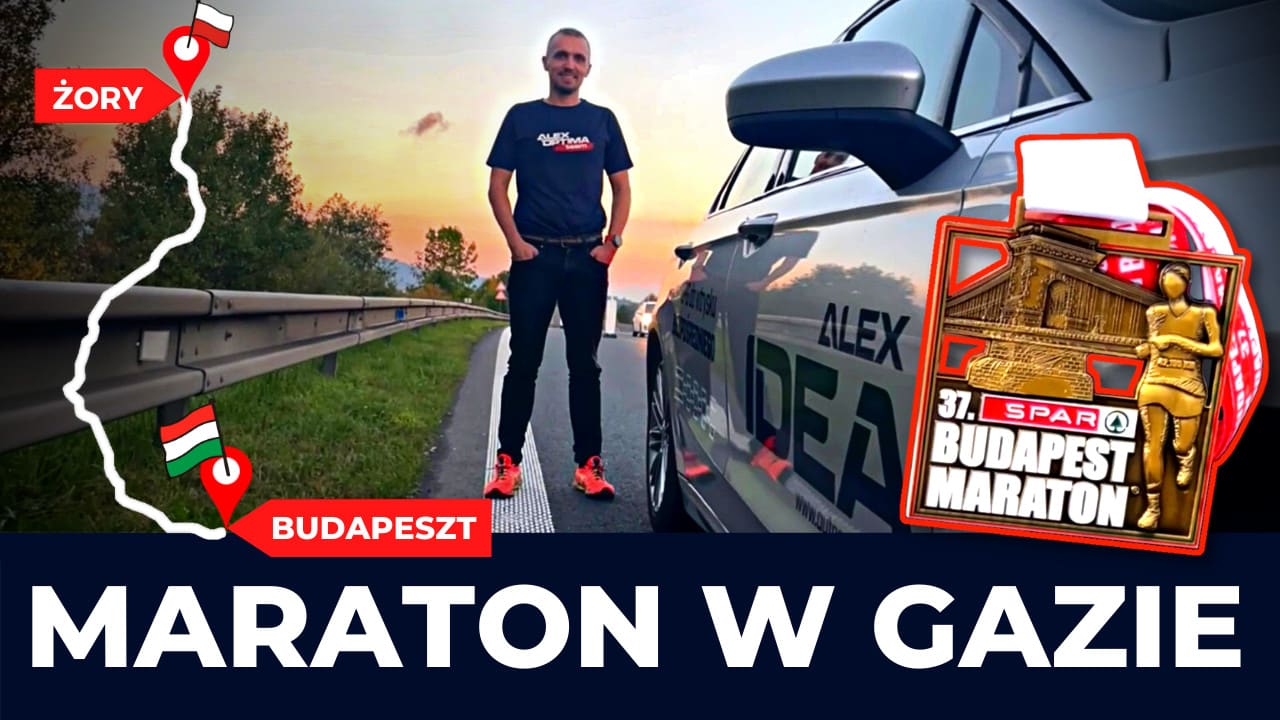 Meet Kamil – our company technician who takes care of the south of Poland and the rest of the world 🌎. Kamil will take us on a double marathon 🏃‍♂️🚗. There are 947 km to drive on gas and 42,195 m to run on gas! What will be the result? Grab your ☕ and let's watch!
Double Gas Marathon – MOVIE
First of all – it will be a marathon on the road with ALEX. 🚗 During this trip, Kamil will check the exact amount of gas and gasoline combustion in a car with LPG installation for direct injection. Secondly – it will be Kamil's historic participation (debut!) in the running marathon in Budapest. Expect:
sporting emotions
a bunch of info about LPG systems for direct injection engines
real measurements of LPG and petrol consumption
professionalism with jokes
a Ferrari.
Starring:
🏃‍♂️ Kamil – an excellent technical advisor and a professional athlete
🎥 Brother-in-law Sławek – a cameraman, editor, mental coach, cheering
🚗 Ford Fusion 1.5 EcoBoost 160HP 2017
👑 ALEX IDEA – Direct injection LPG system
How much gasoline does an LPG system for direct injection consume?
As for the real share of petrol in the ALEX IDEA controller, it's about to 5-15% of petrol injection in relation to the amount of consumed gas. Competitive installations of this type require additional injection of nearly 20-30% of fuel. Let's see the exact calculations from the route traveled by Kamil.
Refueling on route: Żory (PL) – Budapeszt (HUN) – Żory (PL) = 947 km
1️⃣ START: Żory (Poland): 41 L gas + 25 L petrol (to full)
2️⃣ Komarno (Słowacja): 31,37 L gas
3️⃣ Komarno: (Słowacja ): 27,76 L gas
4️⃣ END: Żory (Poland): 34,6 L gas + 7,74 L petrol
Fuel consumption for the 947 km route:
🔹 LPG: 93,73 L
🔹 Petrol: 7,74 L
Average consumption per 100km:
🔸 LPG: 9,9 L
🔸 Petrol: 0,82 L
✅ Petrol share: 7.6%
Ford Fusion 1.5 Ecoboost 160KM 2017 – LPG system assembly
The assembly of a dedicated ALEX IDEA LPG system took place at the ALEX LPG Workshop in Kleosin.
LPG Controller: ALEX IDEA

LPG Injectors: Barracuda 120Nl

LPG Filter: Ultra360°

LPG Reducer: SHARK BFE ADAPT

mapsensor: PTS-01

Switch: RGB
Are you thinking about installing LPG in your car? Use the LPG Calculator and check the profitability of your investment, find an LPG kit for your car or search for a recommended LPG workshop in your area. If you have any questions, go ahead – just ask the ALEX expert.