The first Toyota GT86 with an LPG system in Poland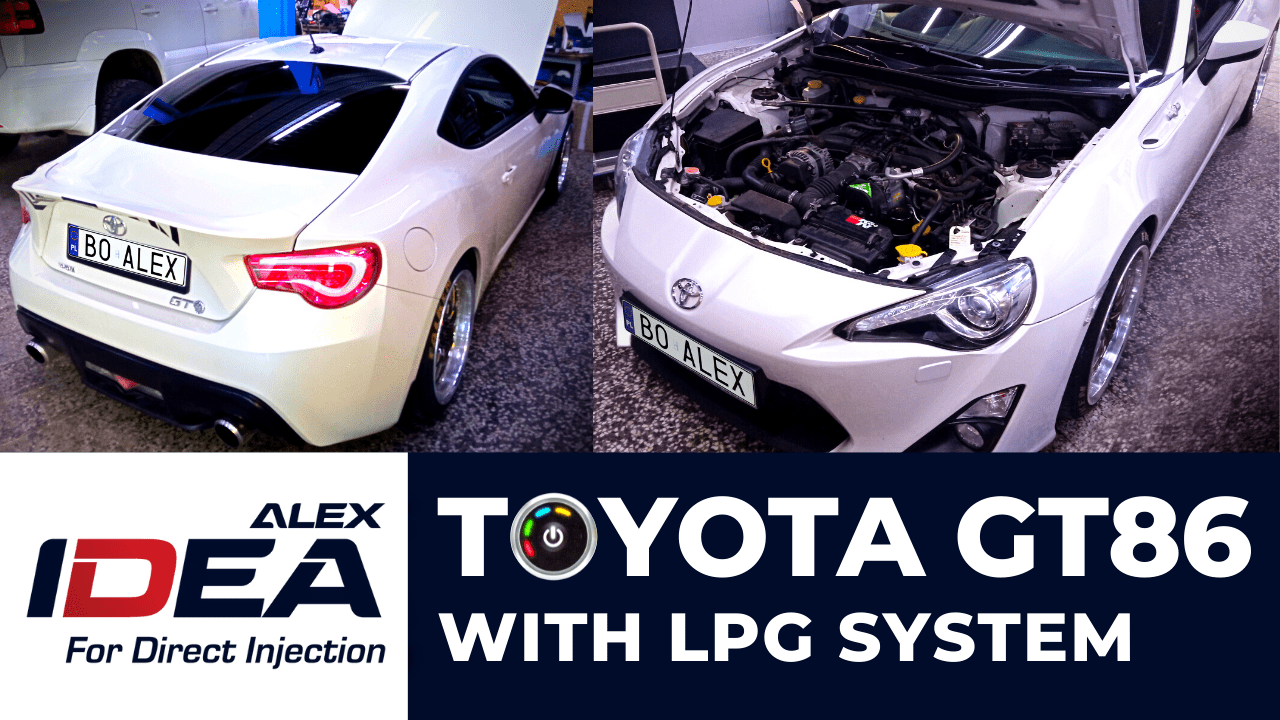 Sports soul, rear-wheel drive, through-exhaust… LPG installation? We love such non-obvious combinations. We present to you probably the first Toyota GT86 in Poland with an LPG installation!
Toyota GT86 – when your mind says NO, but your heart screams YAS
There are cars that we buy with our heart, not common sense. Toyota GT86 definitely belongs to this group. A unique car for which it is difficult to find competition. Jeremy Clarkson  described the GT86 as brilliant and said it would put a smile on the face of every car enthusiast in the world. And what do Kamil [ALEX technical advisor] and Michał [Silesia Cars workshop, where the LPG installation was installed] have to say?
Accustomed to comfortable sedans, we get into bucket seats. So little space. Not to mention the rear seat. We start the engine and off we go! Omg, so stiff! We accelerate to 100 km/h in the second gear! Wohoo, so loudly! Instead of talking, we start screaming, trying to communicate. Forget about the radio. We let go of the conversation and just enjoying the ride. And joy begins. But this car sticks to the road on corners! Pure poetry! Michał focuses on driving, because in that car everything on the road happens… faster 😉
If you're looking for a comfortable way to get between A and B – you've come to the wrong place. If, on the other hand:
you're looking for driving fun
you like having fun
instead of turning on the radio, you open the window
you like to go on track sometimes
you love JDM
fun> comfort
you want to buy a third car for the garage,
you may also like GT86.
D-4S dual injection system in Toyota cars (DI + MPI)
The cooperation of Toyota and Subaru engineers resulted in an interesting engine design. In the GT86 we have a 2-liter 200 HP B4 naturally aspirated boxer engine by Subaru, equipped with the  Toyota's D-4S system, i.e. combined direct-indirect mixed gasoline injection (there are two injectors per cylinder – for direct and indirect injection). Thanks to this, despite the lack of turbo, we get an efficient power system spinning up to 7500rpm.
These 2 types of injection work together in a combined manner. Both direct and indirect injection work under load. When we press the gas pedal harder, the car switches to direct injection only. In general, direct injection works all the time – both at idle and under load – only the proportion of fuel changes.
Toyota GT86 with LPG System – components and operation
From the point of view of adapting this car to autogas, the Toyota is a very interesting case, but thanks to the components used, the GT86 runs on gas in the full load range (of course with extra petrol).
ALEX IDEA 2.0 LPG Controller
The ALEX IDEA 2.0 (dual) controller supports 3 or 4-cylinder engines, also with mixed gasoline injection, collecting signals simultaneously from two types of injection. Therefore, there is only one LPG system under the hood – we save money and space and gain the aesthetics of the installation. The controller, by counting all the signals from the petrol injectors, is able to translate them into gas injectors mounted in the intake manifold.
Barracuda 130Nl LPG Injectors
In the GT86 premium class gas injectors Barracuda are installed, with currently the highest efficiency in the range – 130Nl. Fast, durable, efficient and well known throughout the LPG industry.
SHARK BFE ADAPT Reducer, that increases gas pressure even in a naturally aspirated engine
The SHARK BFE ADAPT reducer is designed mainly for turbocharged cars, where it can show off its capabilities – increasing the gas pressure directly proportional to the current engine load. In practice, this makes it possible to reconcile idle and high loads. Effect? Increased efficiency of the entire LPG system. You can read more about the operation of the SHARK BFE ADAPT reducer in this article.
Moreover, ADAPT builds up gas pressure also in naturally aspirated engines. Let's check how it fared in our Toyota. The gas pressure is 1.15 Bar when driving steadily and increases to 1.45 Bar when accelerating. This is not as huge increase as in a turbo engine, but the 0.3 bar that was achieved in the GT86 is an excellent result!
Dual injection and LPG system assembly? No problem!
Until recently, such a combination of 2 types of injection was problematic for many manufacturers and installers of LPG systems, who often recommended the installation of 2 separate installations. 1 system handled 1 type of injection separately. This solution required the installation of double number of gas injectors. Effect? Double installation costs, as well as complications in the assembly and synchronization of drivers.
Therefore, ALEX engineers created an LPG system that met the increasing requirements of the latest gasoline engine designs. This is how the ALEX IDEA 2.0 (dual) LPG system dedicated to mixed injection engines (DI + MPI) was created. By adding the adaptive SHARK BFE ADAPT reducer, top Barracuda gas injectors supported by the Ultra360° volatile phase LPG filter, we get an LPG set that can handle the most demanding cars.
Toyota GT86 – fuel consumption after installation of the LPG system
[Update 24.05.2023] More than half a year has passed since the assembly, so we can share the fuel consumption report from the customer 🙂
In the city: 8 liters of LPG + 2 liters of petrol
On the highway: 6 liters of LPG + 0.5-0.8 liters of petrol.
Assembly of the LPG System ALEX IDEA
Car: Toyota GT86 2.0 147kW 2012 Boxer
Engine code: FA20D – Dual Injection (DI + MPI)
The system was installed in the LPG workshop:
Silesia Cars – Instalacje Gazowe Katowice
Pukowca 15, 40-847 Katowice, Poland
Phone: +48 500 222 759 / biuro@silesia-cars.pl
https://silesia-cars.pl
——
Are you thinking about installing LPG in your car? Use the LPG Calculator and check the profitability of your investment, find an LPG kit for your car or search for a recommended LPG workshop in your area. If you have any questions, go ahead – just ask the ALEX expert.