Ford Kuga 1.5 183HP 2016 – installation of LPG ALEX IDEA system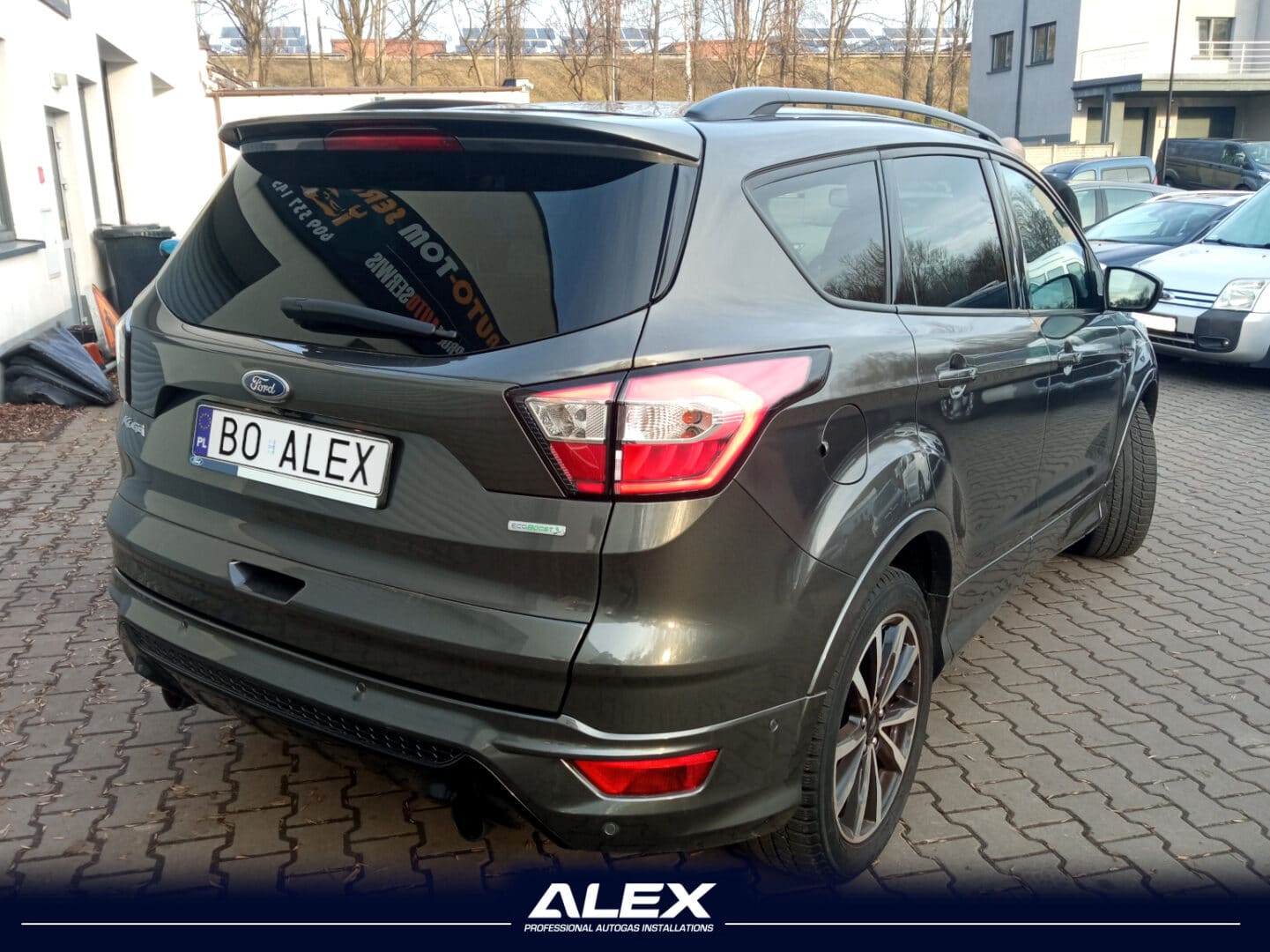 Ford Kuga is a car that can meet any task. It has everything we are looking for in an SUV. Nice lines, optimal position behind the wheel, a large trunk and 4×4 drive, which it can easily handle off-road. And with our ALEX IDEA LPG installation, refueling will be much more pleasant ;).
Ford Kuga 1.5 EcoBoost 182HP 134kW 2016 r. – fuel usage
The main downside here is fuel consumption, which, according to drivers, is 9-13 l/100 km of petrol. That's a lot. But we can reduce the refueling bill by almost half, if only we decide to install the LPG system, like the owner of this Kuga. 🙂
EcoBoost and autogas installation – IDEA(L) system!
Contrary to popular opinion, EcoBoost engines – turbocharged, with direct petrol injection, may like the LPG system. In order for everything to work properly, the same rules should be followed as for absolutely every installation of a gas installation. That is:
The car in which we plan to install the LPG system should be 100% efficient. If we have postponed any repairs, they should be done BEFORE arranging for installation. The patient must be healthy. 🙂
The workshop we choose for installation must specialize in LPG systems. Avoid the so-called sheds that offer assembly at very attractive prices. Do specific research or use our search engine for recommended workshops.
Don't skimp on LPG components. The principle of saving on LPG applies only AFTER installation, never before! A modern controller, an effective LPG filter, reliable injectors and other LPG system components cost money, but if you want to drive economically, trouble-free and for a long time, this is a must.
Instalacja gazowa do wtrysku bezpośredniego EcoBoost
Engines with gasoline direct injection are currently very popular, although until recently they were not considered "friendly" for conversion to LPG. Fortunately, it's a thing of the past 🙂 A properly installed and calibrated LPG ALEX IDEA system is virtually failure-free.
ALEX IDEA controller – the brain of the whole autogas system, which controls the work of all LPG components.
Barracuda 120 Nl/min injectors – legendary premium gas injectors – fast, durable, simply the best.
SHARK BFE ADAPT reducer – reducer dedicated to turbocharged cars, which increases the efficiency of the entire gas installation. It adapts to the current engine load, thanks to which the LPG installation "does not interrupt". It doesn't matter if we suddenly press the gas to the floor, or the car will be idling, the gas installation will deliver a larger / smaller amount of gas and service the engine. This reducer is our (and our installers') real favorite! 🙂
Ultra360 filter – a filter that effectively removes impurities from the gas. Unfortunately, we have no influence on the quality of the fueled gas, we do not know whether it is clean or dirty. But with this filter, we don't have to worry about that at all. 😉
RGB switch – flat LPG/petrol switch with a modern, "clean" design, with the option of setting your own display colors. In this case, the client requested a shade of blue 🙂 Cool reference to Ford colors.
LPG installation for Ford Kuga 1.5 182HP – ALEX IDEA system
🚗 Ford Kuga 1.5 EcoBoost 182HP 134kW 2016
⏩ Fuel Direct Injection (DI)
The ALEX IDEA LPG set was installed:
🔧 Assembly workshop:
AUTO TOM
Hallera 83/1, 41-709 Ruda Śląska, Poland
tel. +48 609 537 145